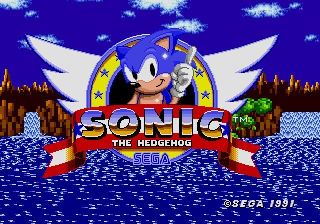 Sonic the Hedgehog (Genesis, 1991)
Sonic the Hedgehog was bright and fast and loud. Those are the main selling points that it had over Super Mario World, and they worked pretty damn well. Super Mario World, in comparison, had a dopey little-kid sort of look to it, compared to Sonic's edgy, rad-to-the-max visuals. Sonic played faux-metal at high volume in the background, whereas Mario played, well, goofy Mario music. Sonic ran real fast, and had spikes and huge eyes, whereas Mario was mostly just a fat guy with a mustache.
Unfortunately, Sonic's game wasn't very good. It plays broadly like Mario, with the same general platforming conventions, but significantly devolved; all Sonic can do is run and jump. There are some powerups available, but none of them add any new abilities or fundamentally change the gameplay; only one of them does anything but increment a resource, in fact. Every level is fundamentally the same; Sonic runs to the right, and you struggle to keep him under control, since he moves far too fast; therein lies one of the game's problems. Since every level gives you ten minutes to clear it, there's really very little incentive for flying along at full speed, and you'll end up playing an annoyingly tentative stop-and-go approach, trying not to go too fast. Which, you may recall, was the game's whole appeal in the first place.
The game also features the most annoying bonus levels in any game ever in all of history. They're like a rotating maze, and you bounce around constantly, and try to make your way to this stupid emerald. It's nearly impossible to control, and even if you're the best Sonic player in the world, it's still going to be largely a matter of luck if you can make it through. And your reward for collecting the emeralds? Not a goddamn thing.
By Sonic the Hedgehog 2, Sega had nailed the formula a bit better, and the games actually started being fun. The first one, though, is pretty much a stinker, but it's still widely regarded as a classic. Super Mario World was way better, even if it did look pretty young in comparison.
---